назад
Bachtrack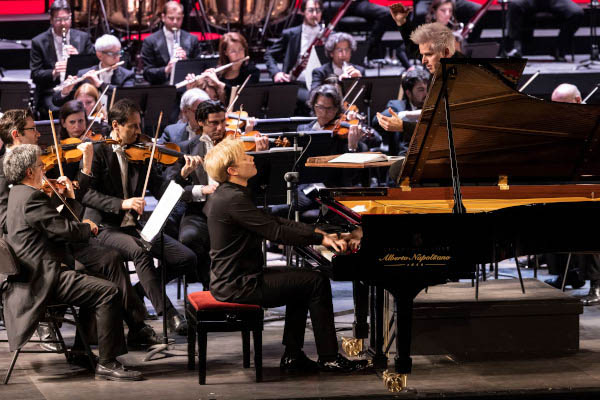 Review of the concert in Naples (14.02.2023) / 1st Rachmaninoff with Dan Ettinger and the Orchestra of the Teatro di San Carlo
bachtrack: Alexander Malofeev impresses with Rachmaninov and more in Naples
This Orchestra del Teatro di San Carlo programme, based on popular Russian repertoire, was held at the Teatro Politeama in Naples, since the San Carlo is currently closed for refurbishment until April.
In Rachmaninov's Piano Concerto no. 2 in C minor, the young Russian pianist Alexander Malofeev unquestionably affirmed himself as a great virtuoso. He displayed sensitivity and crystal clarity, from the majestic first movement, with its beguiling orchestral theme, to the tension and pathos of the Adagio sostenuto; in the third movement, he avoided the grandiloquence that some pianists find in it, but did not simply retreat into technique.
His way of playing reflected the birth of the piece; notoriously, Rachmaninov wrote it after therapy for depression, being blocked from composing because of his lack of success and the sudden death of Tchaikovsky, whom he venerated. Following his doctor's treatment, Rachmaninov completed this concerto, which is now one of the most-played works for piano and orchestra.
With an amazing technique, a clear and pounding touch, and a rich dynamic palette, Malofeev literally subjugated the audience, who in the end greeted him with never-ending applause. He responded with three encores: Mikhail Pletenev's transcription of the Pas de deux from Tchaikovsky's The Nutcracker, the Precipitato, from Prokofiev's Seventh Sonata and the Canzona serenata Op.38 by Medtner. It was the affirmation of an all-Russian programme that he executed with an emotional, lyrical, captivating temperament. The conductor Dan Ettinger, the new musical director at the San Carlo, led a greatly responsive orchestra, ductile and reliable…
By Lorenzo Fiorito
14.02.2023